[Bus parking information:
"We are arriving by the bus company.



1 利用料金


1-2,000 yen (maximum 2 hours)
If you use the store's fresh and the one,000 yen

Two parking hours
9:30-16:30

3 parking capacity
2 units (since the third thank you deadhead Numazu fish merchants cooperative parking. )

4 how to book


 ・ホームページからFAX用紙をプリントアウトし、FAXにて新鮮館受付あて予約して




下さい。


-Confirmation of acceptance, we will return FAX.
If you use the fresh House stores and via its store reservations please.
* If the FAX directly to the fresh hotel receptionist will be 2000 yen with no discount.



5 駐車料金の徴収


Fresh hotel(Bus)

駐車場ご利用時、受付職員が領収書と引き換えに徴収させていただき




  ます。




  なお、新鮮館前が混雑し、かつ沼津魚仲街商協同組合駐車場に回送されたバスは、




  沼津魚仲街商協同組合駐車場にて、同組合職員が領収書と引き換えに徴収させて




  いただきます。(沼津魚仲街商協同組合休業日(沼津魚市場定休日)を除く。)



6 cancellation fee
Stay 2 days ago(Except for the date)

までにキャンセルのご連絡がない場合は、利用料金




  に500円

(Fees)The sum of the amount we charge.
Cancellation is approved by FAX the response from the fresh hotel reception.

7 the implementation period
From 5/1/2018

8 fresh building tenant communication and FAX

• Food processing •
• Gifts •
Numazu port fresh Hotel contact
Fresh hotel reception Tel 055-941-7001 Fax 055-954-1953
Bus routing destination guide
After the third bus service to Numazu port fresh hotel bus parking 2 cars, so please.

* Numazu fish merchants cooperative parking will be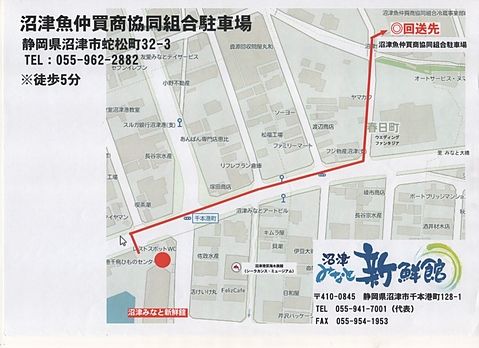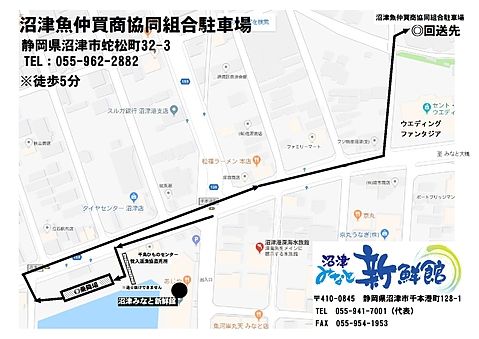 This page has been automatically translated. Please note that it may differ from the original.