Fresh seafood on the spot kara揚ge!Deep-fried seafood dish, salted
丸 勘
★ GOTO Travel Regional Common Coupon★
★ GOTOEAT Blue Ticket★
★ GOTOEAT Fujino-no-★
Can be used/
Focusing on infection control, in-store disinfection, dense avoidance, etc.
I do my best with the health management of the staff.
The space next door is also second round intuition so as not to become dense
7Moon OPEN!
Take all possible measures to make it a healthy Numazu port
Fight Zura!!
The staff are wearing masks,
She has a big smile under her mask.(*
´ω`
)
★ paypay is possible♪
[Raw serodon that only catches in the morning] ban!
It changes depending on the purchase value, but we will send you a notification on twitter every morning♪
600Yen-in~
★ curry appearance of a fish shop! 300 yen!
★'re doing takeout★
Daily and regular bowls can also be take home
(Except for tonkatsu bowl, shrimp fried rice bowl, chicken todon, beef bowl, ginger grilled rice bowl, it will be served with vinegared rice)
Deep-fried deep-sea fish/
Mehikari and Honehi
(There are also by-like and hiyagi))
★ from 500 yen per coin
Shizuoka fisherman meji eaten with dashi stock in a sauce
"M agochadon" 500 yen
It is a marusotsu that was put on the golden dashi soup of ♪
★ seafood is 100 yen for a set with Shizuoka beer
50 yen in a set with rice
★ Twitter started, ★ search by round intuition!
The Road to Domination
Take the order and fry it!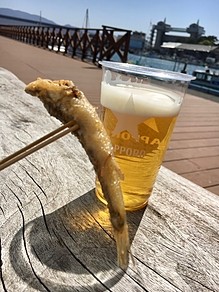 100 yen OFF raw temptation in a set
[Enhancement from 500 yen including one coin]

★ Shizuoka Fisherman Meso
M agochadon 500 yen, 1,100 yen
Please enjoy it with golden dashi soup at any time♪
★ Kamaage Sharasu-don from Suruga Bay 500 yen

★ non-fishing ban period is depending on the weather
【Raw serens that can only be caught in the morning】 500 yen to 700 yen
↑From mid-January to mid-March, fishing is prohibited to protect resources.;;;

New menu ★ curry (ingredient pear) of a fish shop 300 yen included
Toppings include fried shrimp, fried chicken, tonkatsu, etc. for 400 yen each

GOGO to Maru-kan!550Yen-in series

★ Tuna Suri meat bowl 550 yen
★ 2-color rice bowl of white and whitening 550 yen
★ Salmon Bowl 550 yen
★ fish shop tonkatsu bowl 550 yen
★ rice bowl from a fish shop 550 yen
★ shrimp furya-don 550 yen
★ fish shop's beef bowl 550 yen

More of a surprise)
★★ fish shop curry 300 yen
★ fish shop's ginger-grilled rice bowl 600 yen
★ Manager's Best 3-Meal Bowl 800 yen
★ 4-color rice bowl 1,200 yen
★ Kakesu-suri-don rice bowl 650 yen
★ Salmon Salmon Roe Oyakodon 900 yen
★ kamaage seraki and salmon roe bowl 900 yen
★ rice bowl 1,400 yen
★ 1,100 yen including 1,100 yen

★ dried fish set meal, mackerel dried soy sauce set meal 600 yen
★ free miso soup 100 yen
I'm selling just rice(100Yen-in-tax, 300-yen-yen-yen
★ get seasonal daily rice.

☆ Set including 3000 yen ideal for gifts ☆
Dried 6 type set with plenty of volume with total 18 pieces.

Souvenir dried fish)
Snapper(large)1000Yen-in
Including 1,800 yen for nodo-1,800 yen
1,500 yen including 5 pieces of shinaji with se
Including 1,200 yen


☆ 600 yen corner super recommended
真aji(Salt / Soy Sauce) Shiz, Kinme Sea Bream, Red Fish, Mehikari, Hoku
It is a good deal for 1 bag ALL600 yen such as sardine soy sauce dried ♪
Oversized sed off-(Salt and soy sauce)700 yen including 3 sheets

☆ order from hoist corner
Honemi M, Mehikari, Kibonago and Aji no Kumaboko are Numazu brand certified products

☆ our gifts for the local shipping also available
☆ You can pay by paypay at the store
From our homepage toll free at all product orders can be like now.
An extensive menu and FAX paper.
This page has been translated automatically. Please note that it may differ from the original contents.