Fresh seafood on the spot kara揚ge!Deep-fried seafood dish, salted
丸 勘
★大人気はワンコイン丼シリーズ(500円)
冬の新レギュラーは静岡の漁師めし
「まご茶丼」500円
アツアツの黄金のだし汁をかけてあったまるずら♪
★ boiled you can eat cheap food, such as Don young sardine and tuna suki身 Bowl fresh Numazu fish.
★ Search in I started Twitter ★ Metropolitan Numazu circle hunch!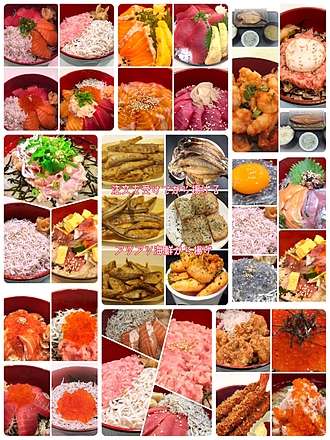 Clean the coin Bowl lineup!
★冬の新レギュラー 静岡の漁師めし
まご茶丼 500円
お好きなタイミングで黄金のだし汁をかけてお召し上がりください♪
★ non-fishing ban period is depending on the weather
朝獲れしか出さない生しらす丼もワンコイン500円
Example)
★ boiled Shirasu Bowl ¥ 500
★ tuna suki身 Bowl ¥ 500
Two colors of Shirasu ★ tuna rice bowl ¥ 500
★ fish, Pork cutlet rice bowl ¥ 500
★ fish, Chicken Rice Bowl ¥ 500
★ shrimp fry-rice bowl ¥ 500
★とろサーモン丼 500円
★ set the dried horse mackerel, mackerel soy sauce dried meal 600 Yen
★ refills free miso soup ¥ 100
I'm selling just rice(100Yen, 300 yen)
★ get seasonal daily rice.
☆ Gift perfect for 3,000 yen set!
Dried 6 type set with plenty of volume with total 18 pieces.
And others)
Snapper(Big)1200Circle
のどくろ1800円
瀬付き真あじ5枚入り1500円
UME ¥ 1,500
☆600円コーナー
真aji(Salt and sauce) mackerel(Salt and soy sauce)
 シズ・金目鯛・赤魚・めひかり・カマスなど1袋ALL600円で御買い得!
☆ order from hoist corner
Book shrimp m because of Hikari and acne help, Numazu brand certified product
☆ our gifts for the local shipping also available
From our homepage toll free at all product orders can be like now.
An extensive menu and FAX paper.
This page has been automatically translated. Please note that it may differ from the original.