[Bus parking information:
"We are arriving by the bus company.

1 usage fee
1-2,000 yen (maximum 2 hours)
※If you make a reservation at the store of The Last Fresh Building and use it, it is free of charge.

Two parking hours
9:30-16:30

3 parking capacity
2 units (since the third thank you deadhead Numazu fish merchants cooperative parking. )

4 how to book
And print out the FAX form from the home page, fresh hotel reception fax appropriated reserve
Please.
-Confirmation of acceptance, we will return FAX.
If you use the fresh House stores and via its store reservations please.
* If the FAX directly to the fresh hotel receptionist will be 2000 yen with no discount.

5 parking fee collection
Fresh hotel(Bus)Parking place available at the reception staff for charge in Exchange for a receipt
Will.
In addition, the bus that was crowded in front of the fresh building and sent to the Numazu Fish Brokers Cooperative Parking Lot,
In the parking lot of the Numazu Fish Brokers Cooperative Association, the union staff collected it in exchange for a receipt
Thank you for this meal. (Excluding Numazu Fish Brokers Co-operative Closed (Numazu Fish Market Closed)) )

6 cancellation fee
Stay 2 days ago(Except for the date)Up to is if you do not receive notice of cancellation fee
The 500 yen(Fees)The sum of the amount we charge.
Cancellation is approved by FAX the response from the fresh hotel reception.

7 the implementation period
From 5/1/2018

8 fresh building tenant communication and FAX

• Food processing •
• Gifts •
Numazu port fresh Hotel contact
Fresh hotel reception Tel 055-941-7001 Fax 055-954-1953
Bus routing destination guide
After the third bus service to Numazu port fresh hotel bus parking 2 cars, so please.

* Numazu fish merchants cooperative parking will be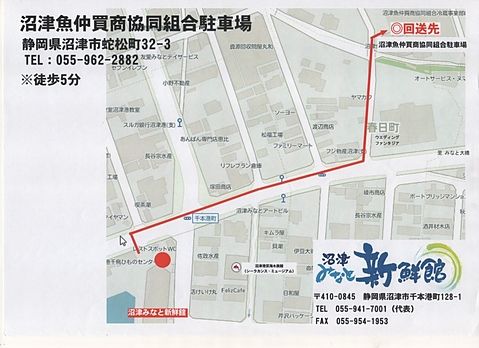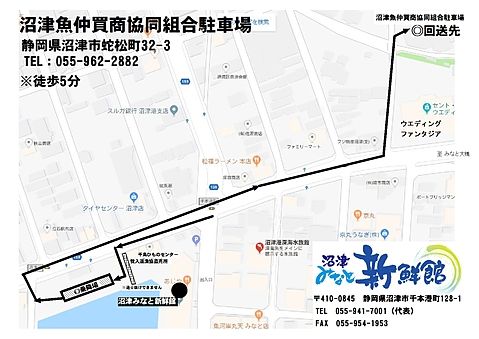 This page has been automatically translated. Please note that it may differ from the original contents.